Under the CEPF small grants program, administered by IUCN Oceania, we are delighted to welcome VEAN, VELA, FORCERT and ESSI as CEPF recipients. VEAN, the Vanuatu Environmental Advocacy Network and VELA, the Vanuatu Environmental Law Association are receiving support to strengthen their respective organizations in order to carry out future biodiversity work effectively; FORCERT will work with communities in Cape St George on sustainable land use planning; whilst ESSI (Ecological Solutions Solomon Islands) received a small grant to host the recent Species Forum in Honiara.
A recent addition to the large grant portfolio is SINU – the Solomon Islands National University. They will work to strengthen teaching capacity and research, and incorporate biodiversity conservation into their curriculum.
Vanuatu Environment Advocacy Network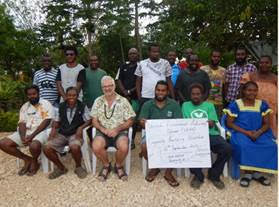 Mark O'Brien of BirdLife International Pacific Programme, CEPF Country Coordinator Vatu Molisa and Lai Sakita, VEAN CEO, attended the recent launch of VEAN's capacity building project funded by CEPF.


Facebook Page: VEAN facebook page.