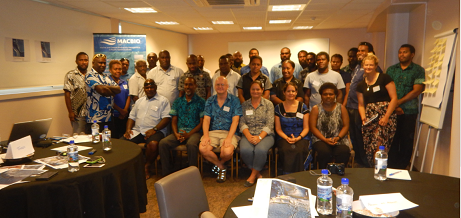 Vanuatu's coasts and oceans are home to a myriad of plants and animals. Complex and varied habitats including coral reefs, mangroves and seagrasses together with underwater volcanoes and underwater mountains and valleys create a biodiversity paradise.
Within this amazing seascape, some places are just a bit more special, just a bit more unique than the surrounding seas. They may be highly biodiverse, they may contain threatened or unique species or they may have unique habitats.
To help identify these areas, the Government of Vanuatu, brought together marine experts from all the Provinces. Together they used their expert knowledge to map the areas that are truly special and/or unique.
The Workshop was held at Climate Change Conference room at Ministry of Climate Change Adaptation, Meteorology, GeoHazard, Environment and Energy in Port Vila on the 25rd October 2017.
The Acting Director-General, Ministry of Foreign Affairs, International Cooperation and External Trade, Ms Roline Tekon, said, "As Vanuatu's begins to develop a Marine Spatial Plan, under our National Ocean Policy, it is essential that we know where our special and/or unique marine areas are. If we know where they are, we can better look after them".
"Throughout Vanuatu, there is a lot of knowledge held by experts. By bringing these people together we stand the best chance of mapping Vanuatu's unique marine biodiversity".
"Once mapped, we can better plan, manage and protect these special places", concluded Ms Roline Lesines Tekon "Over 30 experts kindly donated their time, coming from all over Vanuatu to advise the Government about which marine places (inshore and offshore) they know to be special or unique in some way", said Mr Jesse Benjamin, Director General of Ministry of Climate Change Adaptation, Meteorology, Geo-Hazards, Environment, Energy and Disaster Management.
"The outcome of this workshop will produce the first map identifying Vanuatu's special, unique marine areas", he concluded. This workshop was supported by the Government of Vanuatu and the MACBIO project (funded by the IKI program of BMUB, implemented by GIZ with technical support from IUCN and in close collaboration with SPREP).
If you would like more information, contact:
Mr Vatu Molisa,
MACBIO Project Liaison Officer,
Department of Environmental Protection & Conservation,
Port Vila
Phone: 25302
This email address is being protected from spambots. You need JavaScript enabled to view it.
This email address is being protected from spambots. You need JavaScript enabled to view it.